Login
Site
Scripts
Search on page
Last forum posts
Filebase
Other
Wolfmap R.I.P.
Advertising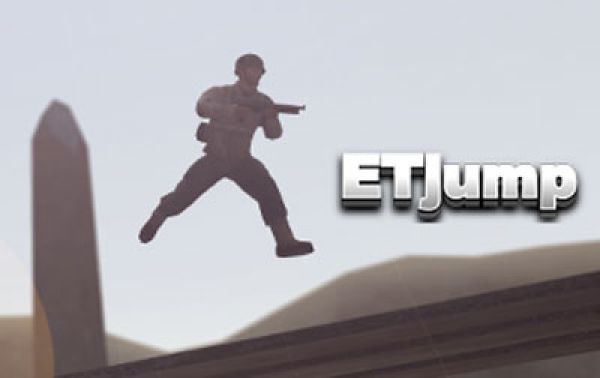 ETJump 2.0.5 released
What is ETJump? ETJump is a trickjump modification for Wolfenstein: Enemy Territory. It is based on etmain and includes bugfixes and lot's of features to give you the perfect trickjumping experience.
ETJump 2.0.5 is ready! Everything that I wanted is not in but as there were quite a few bugs that caused crashes I decided to release it already.
Changelog:
Fixed bugs in timeruns.
!listplayers
movie_changeFovBasedOnSpeed
Changes the fov value based on current speed.
Minimum fov can be set using movie_fovMin
Maximum fov can be set using movie_fovMax
Minimum speed (fov will be at fovMin value) can be set using movie_minFovSpeed
Maximum speed (fov will be at fovMax value) can be set using movie_maxFovSpeed
The step how much fov will be increased per frame can be set using movie_fovIncreasePerFrame
Fixed upmove cheat
!listplayers
Fixed !mostplayed, !leastplayed, !listmaps
Cvars now start with etj_
Added !findmap
Download the mod here
Sources: etjump.com - Zero | wolfenstein4ever.de
---
| | |
| --- | --- |
| Newsposter: StoerFaktoR | (0) |
= Return to Castle Wolfenstein =
= Venom Mod Version 3.5 =
HellBaron89 has released version 3.5 of his awesome Venom mod for Return to Castle Wolfenstein.
New features
# Revised all previous mod files
# More stable gameplay
# Some fixes and optimization
# Better quality release with less space required
# A lot of new effects
# New shaders and detailed textures for characters and levels
Download the new version HERE
RtCW Venom Mod on ModDB HERE
Source - Splashdamage - Ronboy
---
| | |
| --- | --- |
| Newsposter: Motorhead | (0) |

This new ET:Legacy 2.74 release adds optimized LAN player detection, better unicode support to the client, console smooth scrolling support, omni-bot compatibility with Linux 64 bit servers, Lua 5.3 and libraries updates. It fixes a few critical issues and adds a wide range of smaller adjustments and optimizations.
The Legacy mod has also seen countless improvements and bug fixes. If you are looking for the most authentic Enemy Territory experience available today, you should give it a try!
Download ET:Legacy here
Source: etlegacy.com | ->CG<-Rafal via Splatterladder
---
| | |
| --- | --- |
| Newsposter: StoerFaktoR | (1) |