Login
Site
Scripts
Search on page
Last forum posts
Filebase
Other
Wolfmap R.I.P.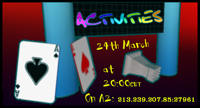 After last month we noticed that the players on our Server A1 are in better shape. Therefor we continue our sports event.
This month we have set up some activities to play - For example: Tennis, Golden Dunk, Chess, Poker.

All maps are dual objective. So no need to sit on the bench. We will see you on 24th of March at 20:00 CET on A2 (213.239.207.85:27961)
Source: rtcw4ever | dark-alchemy.com
---
| | |
| --- | --- |
| Newsposter: StoerFaktoR | (0) |
[UJE] Clan presents a Open Sniper War for everybody, at 05th of April on UJE-Server: 188.138.76.165:27965 - password on our Homepage. Have fun!
Source: rtcw4ever | ujeclan.com
---
| | |
| --- | --- |
| Newsposter: StoerFaktoR | (0) |

Villa Gun Alpha2b is an Allies objective map created by -)A(-islander .

The Axis are holding the massive Anti-Aircraft gun in front of the Villa preventing Allied aircrafts from bombing the city.
Allies must gain access to the Villa and dynamite the Gun.




Allied objectives:
Destroy the Side Warehouse Entrance to gain a new way to the Villa Gun!
Destroy the Villa Gate and reach the Villa Gun area!
Destroy the Villa Gun to let our aircrafts start bombing the city!

Axis Objectives:
Don't let them dynamite the Side Warehouse Entrance!
Don't let them destroy the Villa Gate and rebuild it as fast as it's possible!
Defend the Villa Gun at all costs!





Thanks for testing help to Old-Owl, Thund3r* and WuTang**



Test or download the map HERE

Source by Dark Alchemy Community
---
Newsposter: old-owl
last edited 10.03.2013 - 01:18 von schnoog
(1)
[ 1 | 2 | 3 | 4 | 5 | 6 | 7 | 8 | 9 ] »