Login
Site
Scripts
Search on page
Last forum posts
Filebase
Other
Wolfmap R.I.P.
Advertising
= Return to Castle Wolfenstein Singleplayer =
= RtCW Shotgun Wolftactics Mod - Version 1.1 =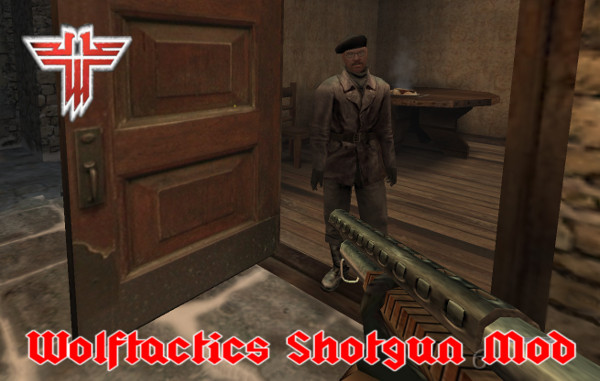 This new RtCW Mod, created by V00id, adds the shotgun of the multiplayer mod, "WolfTactics", to the singleplayer game. The shotgun is bound to "weapon slot 1", (same as the knife). It uses the same 9mm ammo as the Luger.
Screenshots:
Change History in Version 1.1:
- Reduced the firepower (From 8 to 6)
- Increased the weapon spread (From 750 to 2000)
- Added a player recoil
Installation Information:
- Latest official update 1.41 of RTCW is needed.
- Important: Backup the files "cgamex86.dll", "qagamex86.dll" and "uix86.dll" of the RTCW installation folder (where the "WolfSP.exe" is. Default: "C:\Program Files\Return to Castle Wolfenstein").
- Unzip "RTCW_SGWT_MOD.zip" to a neutral folder (NOT the RTCW installation folder).
- Copy the content of the sub folder "RTCW" into your RTCW installation folder.
Download the new mod HERE
V00id on ModDB HERE
Source - RonboyProductions - Ronboy
---
| | |
| --- | --- |
| Newsposter: Motorhead | (0) |
= Kerkyra Beta 1 =

This the first official release of the map, "Kerkyra", created by -SSF-Sage and Pegazus from SM-Mapping.
Storyline:
In the year 1941 a group Italian archaeologists found a buried stash of ancient writings. One of the documents mentioned a lost mythology. It stated if an army chief used three charmed artifacts, his fighters would become invincible.

These artifacts were the unstoppable Achilles' Sword, the impenetrable King's Crown and the Emperor's Chalice that gives drinkers bulls strength.

Another legend tells about an Empress bragging about similar items. The archaeologists believe the items are same and their secret unknown. A group of Axis soldiers is sent to inspect the Empress' old Palace at The island of Corfu.
Screenshots:
Download the new map HERE
Source - Enemy Territory Stuff - Sage
---
| | |
| --- | --- |
| Newsposter: Motorhead | (0) |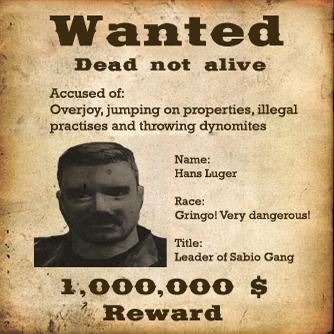 Story:
Sheriff has put some Sabio Gang members in Jail after a long night of committing hostile deeds. The Gang in dark coats is up to free their Fellows.
If you decide your Fellows deserve their nights in Jail you can find multiple other ways to entertain yourself in the lovely Western town of Pegaso Pass.
---
Objectives:

Axis:
1] Destroy the Gunsmith's door
2] Steal two packs of Dynamite
3] Steal a Detonator
4] Prepare the Detonator!
5] Activate and defend the Detonator for 30 seconds!
Allies:
1] Don't let them destroy the Gunsmith's door
2] Don't let them steal two packs of Dynamite!
3] Don't let them steal a Detonator!
4] Don't let them prepare the Detonator!
5] Disable the detonator before the 30 second timer runs out!
---
Credits:
Pegazus
For some assets provided for use in this map. Also great help on sketching, planning, testing and general support.
[UJE]Niek
Horse
GANG$TA
For great bot files
---
Changelog:

Beta1.5:
-More cover to cut straight paths and better spawn exits
-Two new rows of houses added to stop camping
-More routes to objectives
-Removed and widened Church doors
-Limit trickjump area access during objective play
-Fix crash bug on detonator
-Removed detonating by jump
-Only axis can arm and allies disarm the detonator
-Added routes etc. features for Omnibot
-Detonation time 30secs->35secs
Download or test the map here
Source: enemyterritory-stuff | -SSF-Sage
---
| | |
| --- | --- |
| Newsposter: StoerFaktoR | (0) |