Login
Site
Scripts
Search on page
Last forum posts
Filebase
Other
Wolfmap R.I.P.
Advertising
= Thud in the Sand - Beta 2 =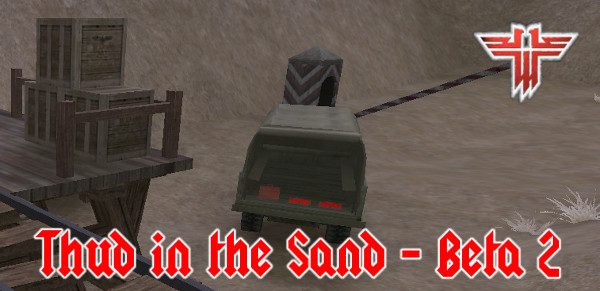 This WuTangH's latest release of his Wolf ET map, "Thud in the Sand".
Changelog:
- Another bunker entrance.
- Chevy (green) Truck moved to the new bunker exit on the other side of mountain.
- A little performance fix, but it's still quite bad.
- Fixed shaders bug of water & sky textures that bugged textures on other maps in map-rotations.
- Fixed objective deliver points, so you can't capture the Key and other objectives at Truck anymore.
- Another floors on buldings, roofs, plus many more brushwork.
- Changed spawntimes to balance map a little.
- Stones at waterfall are not models anymore, but brushes.
- Tunnel terrain is not so flat anymore.
- 2nd allied spawn is devided on two positions (under one spawnpoint)
- Added objective cameras in limbo menu.
- Added pipeline holders so they look more real.
- All cables are non-solid now and will not block jumping players in tunnels anymore.
- Configstrings - all soundscripts are called just s[number], that's all I could do about it.
- Brushes, entities, textures, and scripts cleanup.
- Truck barrier has new design.
- Added missing sound when The Key is dropped, or delivered to the Safe.
- 1024x1024 command map
Screenshots:
Download the new map version HERE
Source - Splashdamage - WuTangH
---
Newsposter: Motorhead
zuletzt geändert am 21.11.2016 - 22:39 Uhr
(0)
= WolfenDoom - Blade of Agony =
= Chapter 1 - The Staff of Kings =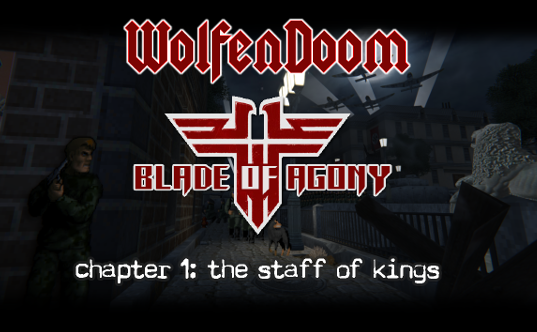 Blade of Agony is a story-driven FPS. The project is inspired by WWII shooters from the 90's and early 2000's, like Wolfenstein 3D, Medal of Honor, and Call of Duty, but with faster-paced gameplay in the spirit of Doom! The game can be played standalone using the GZDoom engine as a base.
Story:
It's 1944, and the war approaches its peak. The U.S. has joined the Allied forces, and the Soviets are pushing back the front in the east. The tides of war are turning, and the Führer's victory seems more and more beyond his grasp. However, the Axis Forces, refusing to capitulate, have grown obsessed with human experiments and occult artifacts, in which they see a potential escape from their final Doom. The Allied leaders reject this possibility as nonsense, nonetheless, some still fear what the Führer might be up to. The situation is nebulous, however, and little is certain.
You are Cpt. William "B.J." Blazkowicz, an Allied spy, a fearless risk-taker, and the greatest soldier to ever take up arms in World War II. Your role has changed, though; you've retired from active duty, and now you spearhead operations as a systems analyst. You thought it would be the right choice--leading and motivating instead of doing the dirty work--but lately you've grown restless. At least until a few days ago, when you received an encrypted message from your old friend and comrade Cpt. Douglas Blake, calling you back to duty...
Features:
Blade of Agony is much more than just a pastiche of the classic shooters that inspired it; the project will offer a unique experience. It also has many features not often seen in source port projects--Blade of Agony truly pushes GZDoom to its limits.
7 playable and unique levels in Chapter One (over 20 in the full game)
Orchestra-quality game music
Voice acting and ambient soundscapes
A combination of low-poly models and sprite assets to create the perfect retro feeling
Devastating armaments from the battlefields of WWII
Interactive NPCs that support the twisted plot's progress and help you understand the game
Beautiful special effects (weather, elements, explosions, etc.)
Much, much more!
Screenshots:
Download WolfenDoom (standalone version) HERE
WolfenDoom website HERE
Source - Splashdamage - WL6

IMPORTANT NOTE!!! The boa.exe maybe is infected with an trojan.
Play this game at your own risk
https://www.virustotal.com/de/file/42aa96c19e744993394e8d35e2f8026a8151ed1e0321016c88ba6050783064e5/analysis/
---
Newsposter: Motorhead
zuletzt geändert am 19.11.2016 - 09:00 Uhr von StoerFaktoR
(0)
= The Wolf Team Anniversary =
On this day, 10.11.2016, the Wolfteam turned 3 years old. This is what Thunder, Founder of The Wolfteam, had to say about the past 3 years:
"The WolfTeam was created on November 10th, 2013. As far as I remember, Mateos and Acqu were the first to join me on the idea of the creation of a helpful forum for modders and mappers of the game Wolfenstein Enemy-Territory. Since then, the community has grown and is still growing. Actually, it has become bigger than I ever hoped for. We are now, as I write this, up to 69 site members.
We have fun helping each other and even if you aren't the best in English we do our best to help you. We had a bit of a bumpy start, with website attacks and Clans that thought we would be a new rival Clan that would bring other Clans down. However, slowly but surely, people started to finally understand that we are not a Clan, that we're actually just a community, dedicated to bringing out new maps and mods for them to play.
Today, several Clan leaders and members of different parties have joined in and are creating, supporting or commenting on the stuff that we do for Wolf ET. We've always kept to the rules, "Real life comes first" and "There is nothing you HAVE to do". We are a free community where everybody can join, as long as they behave.
This year we have joined forces with ET:Legacy, to keep Wolf ET fresh and somewhat better looking in the hopes of bringing back some of the old players and maybe some new ones to the game too. As long as I see that there is activity and nice people helping each other I will keep this site going."

Wolf ET Forever!!

Best Regards,
Thunder

For this anniversary a game night will be held on Desperados silEnT server, featuring a few maps created by TWT community members. This Saturday 12.11 from 8pm CET.
Desperados server ip: 5.77.47.137:29000
The Wolfteam website HERE
Source - Desperados Clan - |D| - Ray
---
Newsposter: Motorhead
zuletzt geändert am 10.11.2016 - 16:47 Uhr
(0)