Login
Site
Scripts
Search on page
Last forum posts
Filebase
Other
Wolfmap R.I.P.
Advertising
= Wolfenstein: Enemy Territory =
= ET: Legacy - Coders Needed =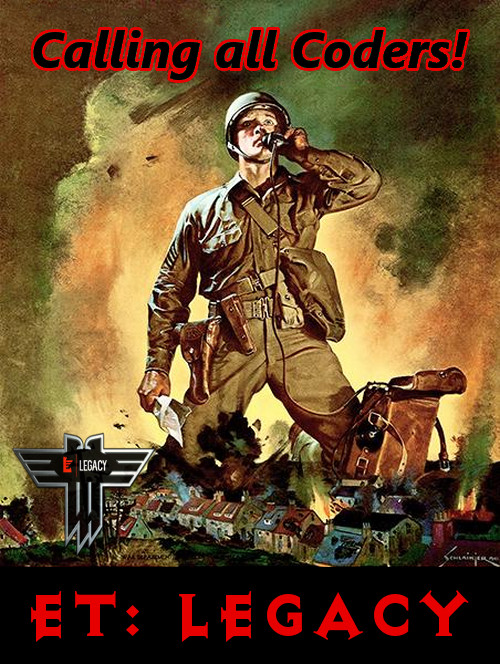 In respects to "Return to Castle Wolfenstein" and "Wolfenstein: Enemy Territory", our Wolfenstein Community has been very fortunate over the years to have enjoyed so many superb game modifications. These community-created mods have enhanced our Wolfenstein games and in turn, our gaming experience too, giving us a very varied and enjoyable menu to choose from.
However, with regards to "Wolf: ET", we at Splatterladder and Wolffiles have to give a special mention to one modification in particular and that is the excellent "ET: Legacy Mod". This is far more than a game modification, it's actually a rebuild of the game, from the ground up, just like it's "RtCW" counterpart, "ioRtCW".
At this moment in time, "ET: Legacy" is considered by many players to be the future of our beloved game and every year it just gets better and better. The Devteam have many helpers, in respects to mappers, testers and bug reporting, but they still lack the necessary numbers in respects to game coders which, if rectified, would really increase the progress of game development.
If you are a coder, or have friends who code, please visit the Devteam on their "Discord" channel and discuss how you can help contribute to this superb game rebuild. You won't regret it.
Screenshots:
ET: Legacy Discord channel HERE
ET: Legacy Official website HERE
---
Newsposter: Motorhead
zuletzt geändert am 27.05.2019 - 23:48 Uhr
(0)
= Wolfenstein: Enemy Territory =
= The ETernity LAN: Results =

Yet again the Wolf: ET community has shown how tight and strong it is. We made the impossible happen and experienced another LAN, 16 years (!) after its release. Elysium were the happy winners and took the trophy at the ETernity LAN. We would like to thank everyone involved for making this a pleasure to host and to make this a lifelong memory for all of us.
6on6 tournament:
Elysium - € 1100.00
GiZmOoO, hayaa, iNsAne, Jere, outlAw, Sebhes
Made in Germany - € 600.00
Aqi, Bl4d3, FiREBALL, FLoPJEHZ, kReSti, stRay
To Make Odds Even - € 300.00
Abj, BloOdje, dialer, h2o, lEku, toNi
3on3 tournament:
Team-Visual - € 540.00
Jay, GiZmOoO, outlAw
TCGOnline - € 270.00
Abj, lEku, h2o
Teamoxid - € 150.00
FiREBALL, KRESTi, stRay
Thanks for helping us:
* Msh100 (and Teamspeak) for setting up the game servers and teamspeak
* Daniel (TakeTV) for hosting us and offering a brilliant venue
* Fnsipai for offering us with the streamgraphics
* Kimi for creating the replays
* The crew at the bar for setting up beer pong and letting us drink
* Aqi, Bl4d3, DirtyHarry, FiREBALL, kReSti for preparing every PC
* Everyone who helped cleaning, especially Jere
* Ekto for being the most responsible and available admin
* Pds, Rayzed, Mental, Eujen and the entire "follow.et" for being our core moderators of the stream
* Merl1natoR for streaming the entire weekend on his channel
* FiREBALL, Aquila, Bl4d3, Jere, Ava, stownage, kReSti for taking screens to the lan
* Everyone attending and watching from home <3
source - crossfire.nu - Sebhes
Congratulations to everyone who organised, supported and/or took part in in this excellent Wolf: ET tournament event. Here's hoping for more of the same next year.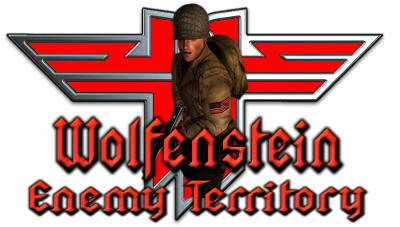 ---
Newsposter: Motorhead
zuletzt geändert am 25.05.2019 - 14:59 Uhr
(0)
= Enemy Territory II =
= A Wolfenstein: Enemy Territory Remake Project =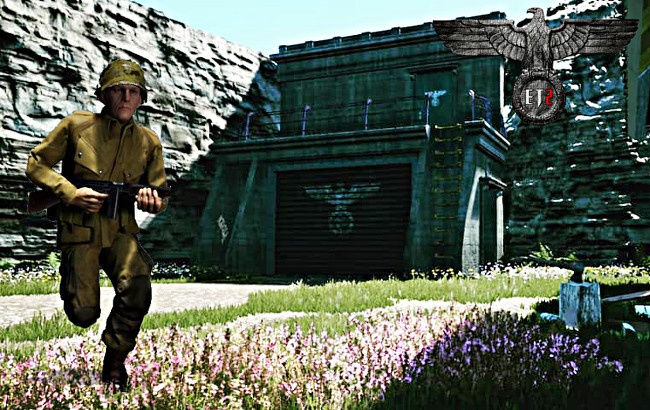 Long-time "Wolfenstein: Enemy Territory" fan and member of the "Crossfire.nu" gaming community, who goes by the name of Chubb, has assembled a Devteam in order to begin a project that we've all hoped we'd see one day, a modern recreation of our beloved "Wolf: ET" on a brand new gaming engine.
The "alpha" stage has now begun and the map that has been the main focus for now is the classic custom "ETPro" map, "Supply Depot". Here's what Chubb had to say about recent project developments and the progress made so far:
"We'd like to thank everyone for the amazing feedback via Youtube, Instagram and on the Crossfire.nu. website. Thank you to all of our donors too, your support definitely gave us a boost. We invite everyone to actively take part in our contest and we'll consider every suggestion." - Chubb
The contest Chubb is refering to is the chance for our Wolfenstein Community to take part in officially naming this new project. The person who's name suggestion is selected will receive his/her name in the game credits, a free copy of the game and also a choice of game merchandise in the future.
Screenshots:
Enemy Territory 2 on Youtube HERE
Enemy Territory 2 on Instagram HERE
Source - crossfire.nu - Chubb
---
Newsposter: Motorhead
zuletzt geändert am 21.05.2019 - 17:49 Uhr
(0)