Login
Site
Scripts
Search on page
Last forum posts
Filebase
Other
Wolfmap R.I.P.
Advertising
Surfaces Gallery (1.0) by Wente Torus and Boy Surface, Technical University of Berlin - Faculty II - Institute of Mathematics.

GEOMETRY: Gallery, Virtual Reality
One tries in the geometry of the group operated projects to exploit the capabilities of graphics engines of modern computer games for the differential geometric visualization of interesting areas. Initial results have been implemented based on the Quake III engines, while in the game "Return to Castle Wolfenstein" (RtCW) used variation has been found to be optimal.

Installation in RTCW:
Extract all files to RTCW folder into which you installed the game. Then you can start with the respective shortcut.
1 - Shortcut "Surfaces1" you will play the map called four.
2 - Shortcut "Surfaces2" you will play the map called wente.
3 - Shortcut "Surfaces3" you will play the map called He2.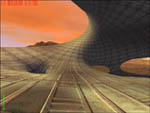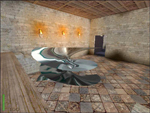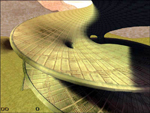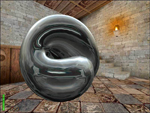 Test or download the map here

Source:RtCWfiles
---
| | |
| --- | --- |
| Newsposter: StoerFaktoR | (0) |
sd 2009 release his Single player map Munich 1.0 for RtCW - The map was created with only one thing in mind, having fun. No historical accuracy was taken into consideration.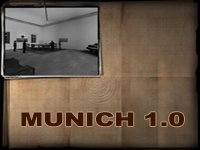 1) Put the files sp_muenchen2.pk3 and sp_pak1j.pk3 in your Return to Castle Wolfenstein/main/ directory
2) Start Return to Castle Wolfenstein Single Player
3) Open the console by pressing the ~ key
4) Type /spmap sp_muenchen2 then press the key enter.








Test or download the map here
---
| | |
| --- | --- |
| Newsposter: StoerFaktoR | (0) |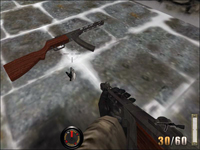 PPSh-41 model for RtCW and ET by Alexandre - This mod replaces the Thompson models in RtCW and ET with PPSh-41 models (linear magazine version). Sounds ans icons are also changed.


- To get the models in RtCW, unzip "ppsh_model.pk3" in the "Return to Castle Wolfenstein/main" directory. Then, if you want the file to affect only MP or only SP, rename it into "mp_ppsh_model.pk3" or "sp_ppsh_model.pk3".

- To get the models in ET, unzip "ppsh_model.pk3" in the "Wolfenstein - Enemy Territory/etmain" directory.

Download here

Source: RtCWfiles
---
| | |
| --- | --- |
| Newsposter: StoerFaktoR | (0) |