Login
Site
Scripts
Search on page
Last forum posts
Filebase
Other
Wolfmap R.I.P.
Advertising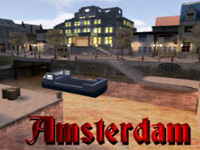 Objectmap UJE Amsterdam b2 (in the past Volendamned) made by [UJE] Niek - The axis have to escort the tank through the streets of volendam to blow up the bankdoors and to get the secret documents to transmit them. It will not get easy for them because of the narrow streets and the buildings surrounded by water. There are alot of paths in this map also by boat some cruise ships will pass by for escort.

Axis objective:
*Escort the tank to the bank
*Blow up 2 baricades
*Sachel the side door
*Fix commandpost
*Blow up the safe
*steal the secret documents
*Transmit th documents

Allied objective:
*stop the axis tank
*Build baricades
*Build the side door
*Build commandpost
*Protect the bank

Source : rtcw4ever

Test or download the map here
---
| | |
| --- | --- |
| Newsposter: StoerFaktoR | (0) |
Scorpio has released a new Capture the Flag map





Test or download the map here

Waypoints Omnibot 0.81

Download

Source:Userupload
---
Newsposter: StoerFaktoR
zuletzt geändert am 15.07.2011 - 17:21 Uhr
(0)
-|PS|-N3crom@nc3r has released a new good looking map.





Test or download the map here


Source:Userupload

---
Newsposter: StoerFaktoR
zuletzt geändert am 15.07.2011 - 17:22 Uhr
(0)